Con Corne
My 42-key monoblock ergonomic keyboard
05-15-23
Revision 2 (Early 2023)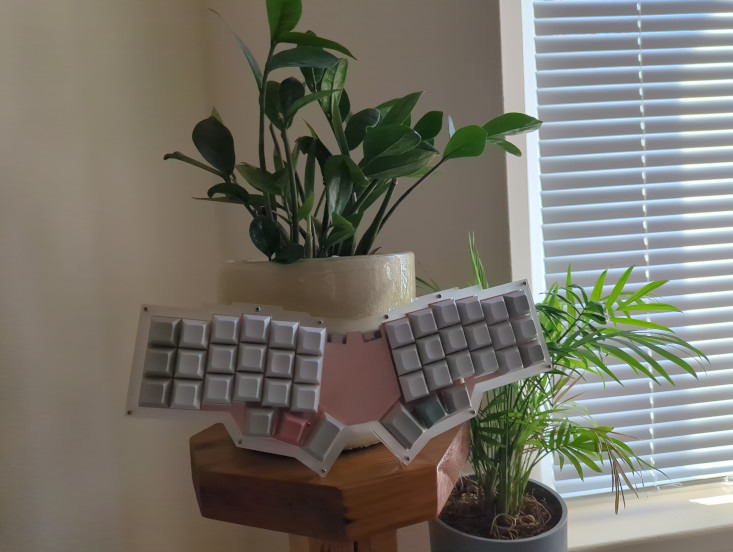 Built a second one to keep at work (instead of using Corne LP split). Revision 2 changes consist of:
Full plate to cover microcontrollers

Inverted microcontrollers on Corne Classic PCB
The microcontrollers are soldered upside-down (chip-side up) to the "bottom" holes in order to fit the full plate design.

Revised top layer which blocks the bottom screw
Reset buttons facing the bottom of the board

Revised bottom layer with holes to access button
Not pictured is the foam wrist rests (x2) which I cut from hand.
Anticipated changes for revision 3:
Proper wrist rest, either:

integrated on bottom layer
slide-in to bottom layer (like current, but more solid and permanent)

Corne LP support
Revision 1 (Early 2022)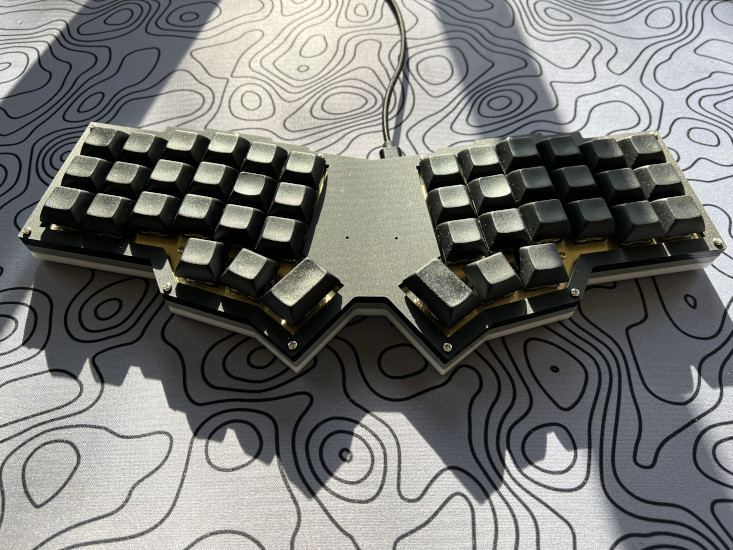 I have enjoyed using the Corne keyboard for almost a year now. The key count and layout have been easy to work with and I type much more comfortably and efficiently than on a standard ANSI board. My biggest gripe with the Corne are the split halves; although I understand the practicality of seperate halves, I much prefer a fixed and consistent layout. Sometimes I would align the halves comfortably without much effort, but frequently I would take time to adjust each half after moving the board around my desk. Creating a conjoined case gave me a comfortable position each time with the added benefit of the halves sitting closer together in the absence of the TRRS cable.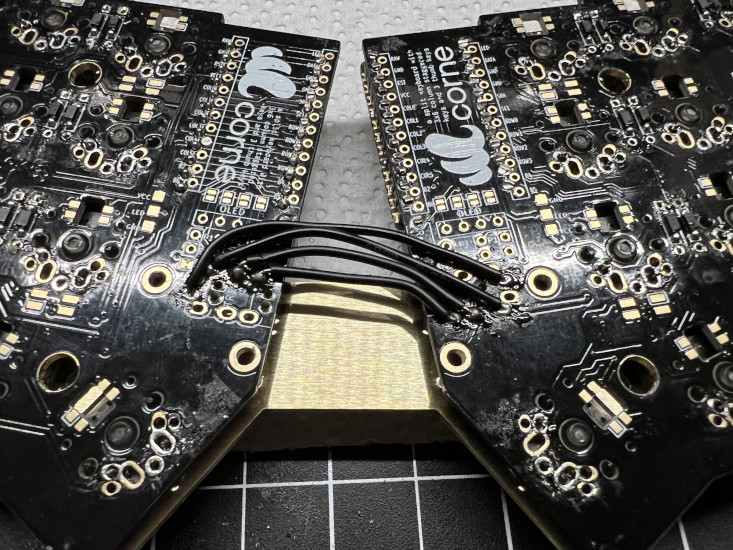 The halves sit a few millimeters apart, each angled 10 degrees from the center. I wouldn't have minded a slightly larger angle given the spacing between the halves but the current positioning is plenty comfortable. The outer case consists of six acrylic layers while the two halves share a brass switch plate that connects to the bottom acrylic layer. Each half is connected directly with wires in place of the jacks and TRRS cable. I also opted for plate and case foam to dampen as much sound as possible.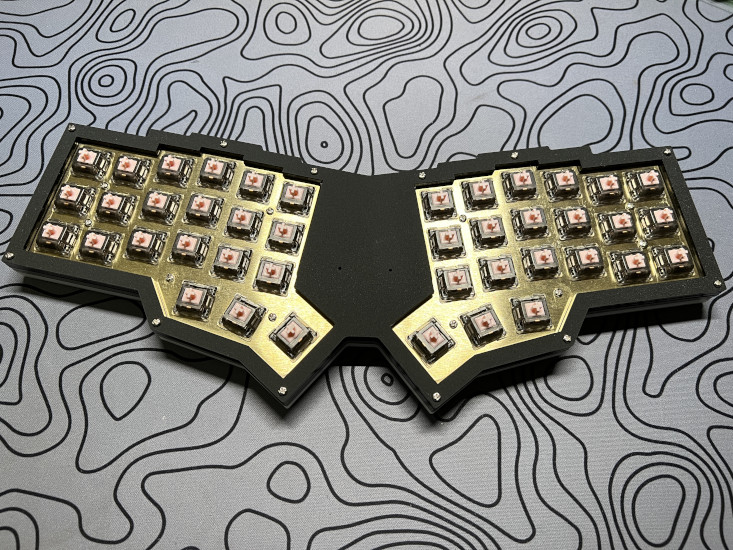 The switches are spring-swapped 35g Silent Alpacas lubed with Krytox 205g0. The keycaps are PBT DSA blank keycaps; nothing special, but they get the job done.
Overall I'm very satisfied with the project. I finally have a premium ergonomic keyboard and I'm proud to have designed the case myself.
Tagged: keyboards soldering ergonomics